It is always difficult to see a beloved pet in pain from injury or illness.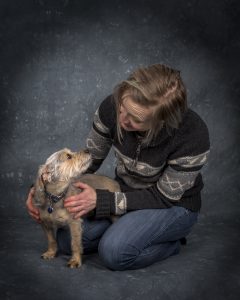 Animal rehabilitation can reduce pain and enhance recovery from injury, surgery, degenerative diseases, age-related diseases, and obesity. The goal of physical rehabilitation for animals is to improve quality of life and decrease pain.
Kootenay Canine Physio offers animal rehabilitation performed by a university trained and certified, licensed physiotherapist who has an additional training and a Diploma in Canine Rehabilitation.
Kootenay Canine Physio provides canine and feline rehabilitation services through the Central Kootenays.
Whether your dog or cat has been injured by trauma or sport, has a congenital orthopaedic issue, is in need of weight management strategies, is advanced in age, or is a weekend warriors who needs preventative exercises, physio can help them live happier lives, with less pain and better function.
The Sporting Dog
A sporting dog, or working dog is essentially the equivalent to an elite athlete. I recommend all sporting and working dogs have regular assessments to help prevent significant injuries.
Puppy Assessments
Puppies live a rough and tumble few weeks. Puppy assessments can help identify any orthopaedic issues early on and strategies can be developed to prevent or minimize long term complications.
Neurological Problems
Physiotherapists are trained in rehabilitation following neurological injuries and impairments. Physio can help with problems such as spinal disc disease, spinal cord injuries and other neurological conditions by reducing pain and working on gait retraining, strengthening and endurance.
What to expect with your first visit:
I will spend an hour to an hour an a half with you and your pet and will complete an assessment of gait and overall body condition and mobility.
After assessment, I will provide information on the dog's condition and injury and will discuss treatment options with you. No two cases are alike and it is important for the treatment to work for both the dog and the owners.
Treatment may include:
Exercise therapy
Muscle retraining
Electro-muscular stimulation (EMS)
LASER therapy
Acustim (electro-stimulation technique used on acupuncture points)
Trans-cutaneous neuro stimulation (TENS) for appropriate candidates
Massage therapy
Taping
Joint mobilization and other manual therapy techniques
General conditioning and strengthening programs
Now introducing: Thera-Paw Canada!
Kootenay Canine Physio is the only Canadian distributor trained to make customized neoprene carpal and tarsal supports for animals with special needs.
Thera-Paw carpal supports, boots, Cushy Paw Slippers and boot modifications and refurbishments are also available.